Kehinde Wiley: A New Republic
– Painting is about the world we live in. Black people live in the world. My choice is to include them. This is my way of saying yes to us.-

One of my favourite things to do in New York (aside from eating Pizza slices and happy hour) is to take a trip to the Brooklyn Museum. A stone's throw from the peaceful Prospect Park and the Botanical garden, there is always a variety of exhibitions from Ancient Egyptian and African artefacts to the controversial and provocative contemporary art by Ai Weiwei. I was fortunate enough to witness the breathtaking art of Kehinde Wiley. (You may have seen his art on screen throughout Lucious Lyon's home if you're a fan of the TV show Empire). I thought it was so amazing that I had to share it with you all!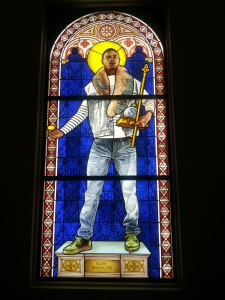 Mr Kehinde Wiley, has spent the last fourteen years transforming historical portraits, using black men. Originally these portraits, commissioned by European Old Masters depict the great status and power of the sitter; by using black subjects, Wiley draws painful attention to the lack of black figures in traditional Western art history. It's like black people didn't exist, this of course isn't true but the lack of black men and women documented in art history makes us ask the question "Who was meant to narrate our cultural history?". In this day and age of selfies, video, photos, film and art, we have more cross-cultural documentation than ever. Negative or positive. For those who went to see 'Black Chronicles II' at Shoreditch's Rivington Place Gallery, Autograph ABP, which unveiled beautiful portraits of black Victorians in Britain, you will know black people most definitely existed and played a vital role too. 
(If you missed out, check my previous blog post on it… there are also current exhibits that I have included at the bottom of this post for your reference).
Wiley often used subjects he met on the street in Harlem. To see these men posing in such regal positions in their T-shirts, Timberland boots, trainers and casual clothes was a refreshing sight. Men who could be your friend, brother, cousin, father or even your partner, an integral part of their community and the world; who if they had lived 200 years ago would be historically invisible. Other parts of the exhibition include bronzed bust sculptures of black men and women proudly boasting black features, one complete with afro pick. Pieces such as 'Mugshot Study' included a recreated 'Wanted' poster questioning the damaging perceptions of young black men and 'Smile' a multimedia video highlighting the history of black faces' link to the minstrels of the past and the very present profiling of black boys which they must 'grin and bear'.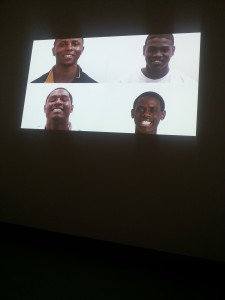 Mr. Wiley was born in Los Angeles in 1977 and grew up looking at old master paintings and sculpture at the Huntington Library in San Marino, Calif. He earned his B.F.A. from the San Francisco Art Institute in 1999 and his M.F.A. from Yale in 2001, followed immediately by a residency at the Studio Museum in Harlem. One day, on a street near the museum, he picked up a piece of paper featuring the image of a young black man; it was a confidential police mug shot of a suspect. Looking at the image in the catalog, or the painting from 2006 based on it, you can see why the innocence and nobility of this young face became, as Eugenie Tsai writes, "a catalyst for his subsequent work."
In his 'World Stage' collection Wiley also captured international subjects from urban landscapes in places such as Rio de Jeneiro, China, Senegal, Israel, India, Sri Lanka and Dakar. Using decorative patterns based on textiles from various cultures, British art and Crafts, African prints, bright, brash and usually floral designs which curl around and cross the subject's body, teasing the viewer's eyesight and crossing the boundaries of traditional portrait. I found them beautiful and even snapped a few close up to use (for example) as a phone background. I think they would be brilliant if used on a vision/dream board . Check out the paintings below and see if you can spot the KING OF POP!
"Equestrian Portrait of King Philip II (Michael Jackson)" The original  by Peter Paul Rubens. Wiley's 2009 reproduction is overwhelmed by the flamboyant royal armour and hovering cherubs. King Philip II is replaced by the face of the tragic pop star (who died that year)  is overwhelmed by the ostentatious royal armour and hovering cherubs. 
Sadly the exhibit was so full of brilliance that I didn't reach the end long enough to document it, before everyone got chucked out, due to the museum closing. The last section looked at females and included sculptures and paintings The museum was then closed Monday and Tuesday, the last two days of my trip. 🙁 
Enjoy!