If you know me you'll know how much I love tea! I must drink roughly 4 cups a day and carry it with me too, so you can imagine how happy was to receive this beautiful hamper from Yogi Tea. The company is based on Ayurveda, the ancient system of conscious and healthy living, which originated in India more than 5000 years ago, it is often referred to as the science of life. (Ayur = life; Veda= science or knowledge).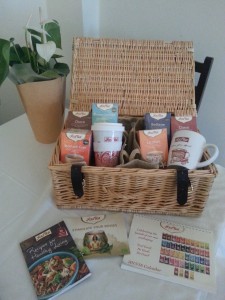 The Yogi Tea company has a rich history. In 1969 when Yogi Bhajan, an inspired and inspiring teacher of holistic living, started teaching yoga in the West. He shared with his students the wisdom and knowledge of healthy living and the beneficial properties of herbs that he had mastered in India, all while serving a comforting and aromatic spiced tea they affectionately named "Yogi Tea.".
Included in the recipe were five traditional Ayurvedic spices: cardamom seed, cinnamon bark, clove bud, ginger root and black pepper. When blended and brewed, these delicious and aromatic spices leave you feeling vibrant and alive, while supporting overall well-being. Intrigued by the complex flavor and inherent health benefits of this unique combination of spices, it wasn't long before several of the yogi's students were inspired to brew their own "Yogi Tea."
Many of the range are detox tea. I've really been enjoying the Throat Comfort since I caught a summer cold, it is fantastic with a bit of honey. I'm now addicted to the Classic tea, with a splash of goat's milk, the spices make it perfect for an evening cup of tea.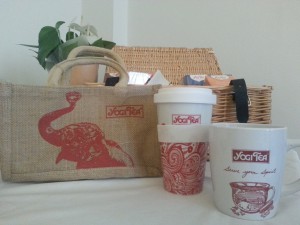 Featured on each box is a simple yoga pose to try  "Easy Yoga For Energy" and my favourite part is the inspirational quote or piece of wisdom found on the tea tag, it is a lovely little pick me up to keep in your thoughts throughout the day.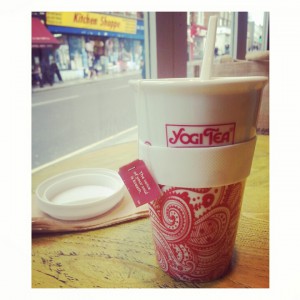 I now want to share the happiness with you!
I have 6 boxes of Yogi Tea to giveaway to lucky followers of mine. The flavours are:
Licorice, Throat Comfort, Classic, Choco, Bedtime, Stomach Ease
TO WIN:
1- Upload a photo of you unwinding and enjoying your favourite cup of tea to Instagram or Twitter, whether that is in your favourite mug or sitting in your favourite place, it can be a selfie or from your point of view (like the photo above).
2. Follow @sophia_sinclair on Instagram or Twitter and TAG ME in the photo or like my page on Facebook here (so you can tag me if you don't use Instagram or Twitter).
3. Write the following caption 'All you need is peace, love and tea!' www.sophiasinclair.com/blog #YogiTea 
4. State which flavour you would like. (not guaranteed)
5. You must be a UK resident.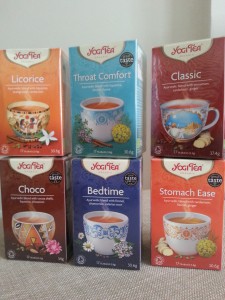 Winners will be chosen at random and the closing date is Sun 2nd August. Good luck!