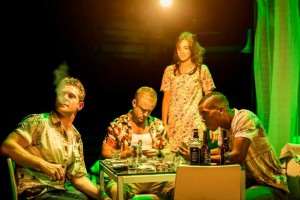 Oh my goodness, one of my favourite plays (A Streetcar named Desire) by Tennessee Williams is showing at one of my favourite theatres, (The Young Vic) and I've just been offered a ticket!!  My birthday definitely came early and what a gift it was!
Having played the lead role of Blanche Dubois in my GCSE exam and then later, Stella in college, this play has a special place in my heart. (Despite the fact the film version stars the legendary Marlon Brando and Vivien Leigh!).
Mesmerising, gritty, funny, sad and beautiful.
I must say Gillian Anderson was absolutely spot on as Southern Belle Blanche DuBois and totally mesmerising. From the moment she walked on, Gillian swallowed up the audience's attention. Feminine, girly, aging and living in a dream-like world of her own. Blanche is a fragile creature. Her high-pitched descent in madness kept you at the edge of your seat, whilst the chemistry between Stella and Stanley was red-hot!  Their volatile- passionate relationship physically irked Blanche and it was her small idiosyncrasies that eventually bubbled over to a tense and emotional finale. I could say the same for Blanche and Stanley. The tension between them created a heat in the room, which made you want to look away whilst at the same time watch their every move. Stella played by Vanessa Kirby was young, fresh in her high-waisted jeans, vulnerable yet happy. Her energy uplifted the piece. In contrast  Ben Foster was the ideal loud, brutal, unforgiving, primal yet sensual Stanley. Swaggering around the place, slamming things, hitting his wife and then feeling the despair he felt afterwards of being apart from his baby and causing her pain was as raw as it gets. Ben's performance made me grit my teeth a few times (a good thing) as his cruel behaviour towards Blanche rocked the atmosphere. I just wanted to jump in and save her. The ever-loving Mitch played by Corey Johnson brought the sweet and lonely man; who lives for his mum to life. The entire ensemble were brilliant and kept the piece at a high pace, whilst encapsulating the laid-back Southern life of New Orleans. Director Benedict Andrews' love for piece really shines through as every element feels carefully thought-out and there is real dedication to the smallest of details, which does the original justice. Saying that it is refreshing remake, which has it's own identity and I would have enjoyed it regardless of knowing the original play. Andrews give it modern feel in a way that we can relate to in the year 2014, just as he did previously with Chekov's Three Sisters by placing them on a stage of tables which were removed throughout the play until all was left was an earth mound, reminiscent of Beckett. (Which I had the pleasure to go and see at the Young Vic again in 2012).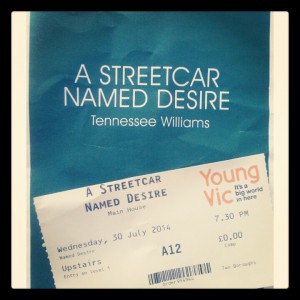 The set was genius, a simple streamlined white frame and design with its own working electricity, which allowed the characters to use the lights, radio, lamps and other household items inside the apartment. The sheer curtain separating the rooms gave it a sense of elegance and poverty which clashed just as the characters did. The simplicity of the set allowed the scene and characters to move a fluidly at a natural pace. Set in the round, it rotated to accompany the scenes and character, meanwhile distorting your view and vision. The best part was the lighting! The lighting changed colour throughout the play relating to the scene and mainly Blanche's mental state, with purples, pinks and reds suddenly becoming apparent when Blanche was nearing mental breakdown. The set really made you feel inclusive, almost like you were inside her mind, spiralling into madness. Again Benedict Andrews genius shines through. I was happy to see a friend of mine in the cast and nearly shouted out "Troy!" when I saw the lovely and highly talented Troy Glasgow on stage as Pedro, one of Mitch's friends. He has been working steadily and building up a great CV for himself over the last 10+ years. Hopefully this role will get him more stand-out roles. I was also pleased to see some multi-cultural casting in the piece considering it was written in 1947!
I actually want to see it again it was that good! There are £5 standing tickets available and A Streetcar Named Desire will be broadcast live to over 1,000 cinemas around the world on Tuesday 16 September by National Theatre Live so go on their site and get a ticket! http://www.youngvic.org/whats-on/a-streetcar-named-desire