IT'S MY BIRTHDAY!!!
*GULP* This is my last year of my 20's.
After a long hard year of being injured and out of work I decided to throw a few celebrations. I had a small, intimate birthday gathering at home with close friends and family, which I shared with one of my best friends Chevonne (who also happens to be my aunt-in-law and is also born on the 4th August).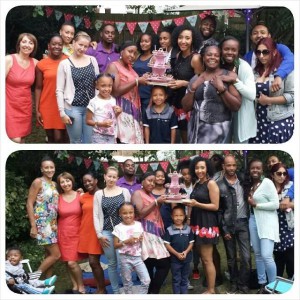 After aiming all year to be well enough to wear heels for, my birthday night out, the actual party at Rise Night club, I set about looking for a party dress. As luck would have it, my good friend Annona posted some modelling photos on Facebook for a website her friend has just set up called The Drunk Blonde's Closet. That was it I fell in love and bought the 'Essex'  two piece in nude. Based around the clothes she would love to have in her closet, Tea has a decided to merge contemporary and vintage pieces from varying designers and also showroom pieces. The prices are fantastic and really affordable . Items range from marijuana crops to Disney printed high-waisted shorts, maxi dresses, playsuits to 90's bags, tie-dye jumpsuits and beaded dresses.  The service I received was brilliant, with Tea even changing my order last moment and shipping it next-day delivery at no extra cost! (I picked the wrong colour)
To top it off, your order arrives with a sweet treat and illustrated business card. Of course I took a selfie for the 'gram, to my surprise TDBC had featured me on their Instagram page and given me 10% off my next purchase. I can't wait to use it, the trouble is I like so much and can't pick only one thing  to choose. If you like your fashion with a twist and like supporting new businesses check out their website www.thedrunkblondescloset.com
Thanks to everyone for making it a brilliant and unforgettable birthday 🙂 ♥
P.S. My feet are killing!